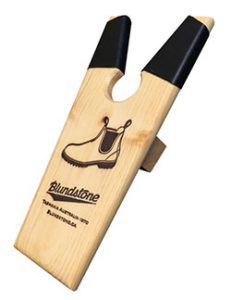 As the name implies, the Blundstone boot jack is designed to remove blundstone boots.
And using a boot jack to take off your Blundstones is a good idea…it makes it much easier than trying to do the one-legged pogo dance as you crash into everything in your front entrance trying to get your boots off.
Of course, that's not to say that you can't use a wood boot jack to remove your Blundstones – because you can.
And whether you buy a Blundstone boot jack or one of these incredible custom boot jacks here, they ultimately do the same job – allowing you to take your boots off without having to bend over and remove them.
But Blundstone made a boot jack to sell to its customers, and although it's pretty plain and cheap it gets the job done. It's just not as nice as a personalized boot jack.
While using the tool itself is pretty intuitive, the question is often asked:
How do you remove Blundstone boots?
Ultimately, you can remove Blundstone boots by using a boot jack or a shoe horn. To remove your Blundstone boots using a boot jack, start by stepping on the back of the boot jack with one foot, while placing your heel of your other foot inside the open notch at the front. Once you've done that, simply lift your front foot up, allowing the boot jack to remove your Blundstones from your foot.
When searching for Blundstone boot jacks, people often wondered about these things as well…
Is the blundstone boot jack the only boot jack that you can use on blundstones, or can you use wooden boot jacks?
What are some of the best boot jacks on the market?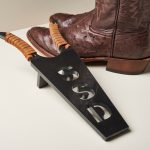 There are many different choices when it comes to choosing a boot jack. Of course, we feel that our custom boot jacks here at woodbootjack.com are the best because of both our quality and unique ability to customize our designs. With that said, the Blundstone Boot Jack is another great option (if you have a pair of Blundstones) because it's easy to use and gentle on your boots. The yoke holds the boot while you slip your foot out of the boot, so you don't have to worry about hurting your boots. If you're looking for a durable boot jack that will last for years, you could get a boot jack that's made from heavy-duty steel, as it will be virtually indestructible.
How do you clean a boot jack?