CUSTOM BOOT JACK EXAMPLES
These custom creations go by all sorts of names and people search for all sorts of variation including: wood boot jack, wooden boot pull, wooden boot remover, wood boot jack … the list goes on and on.
But whether you're looking for the best boot jack, a custom boot jack or the best boot jack for cowboy boots, we can help.
We've designed each boot jack to not only remove your boots with ease, but to be a personalized representation of YOU.
Each custom boot puller is carefully designed according to your specifications, making it a handmade custom creation.
Whether you have a business logo, a family name or a message you'd like to leave people entering the door, with a variety of image customization options we can find something perfect for you.
All we need is an example image or some basic artwork details.
Each of these is created with Laredo Crazy Horse leather, giving it extra character and a slightly worn appearance.
And as it's REAL leather there's the chance that there could be little imperfections on it as well from little scars to portions of a brand.
Generally speaking, we try to avoid these imperfections whenever possible.
In addition to the leather, we've installed a  rubber bumper inset on the inside of the boot puller to help protect against boot abrasion.
Questions People Often Ask When Searching For The Best Custom Wood Boot Jacks
What are the best custom wood boot jacks?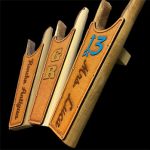 You can find the best custom wood boot jacks at woodbootjacks.com But when it comes to finding the best custom wood boot jack, you need to consider a few things. The first (and most obvious choice) is the material that the jack is made from. Sure, there are plastic or cast metal boot jacks on the market, but here at Woodbootjack.com we prefer a more organic style - making our boot jacks from wood. We've found this gives the most flexibility when it comes to customizing our product to suit your taste, as well as making them strong enough to stand up to repeated use.
What are the features of these boot jacks?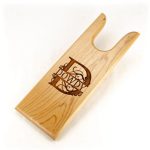 Our boot jacks are made with only the finest materials available, such as wood, metal and or leather (depending on the model & style). This ensures our customers receive a product which is both sturdy and attractive. Plus, our rubber guards provide extra protection against scratches or scuffs on your boots. Whether you choose custom-made or one of our stock designs, we take great care in selecting materials specifically for each customer so your jack fits perfectly and lasts for years to come. With such dedication to detail, you can rest assured knowing your jack will stay beautiful for years to come. 😉
How do these boot jacks compare to other brands?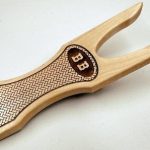 When making our boot jacks, we take great pride in uniquely designin' our jacks that not only stand out from the competition but also maintain both quality & durability of construction. Crafted with beautiful high-quality wood, our boot jacks serve as functional art pieces that can be passed down from generation to generation while being tailored to suit any style through various design options. Not only that, but their customizability makes them a perfect present idea whenever you need an eye-catching addition to any occasion! 😍
How do you care for your custom wood boot jack?
Where can I find more information on custom wood boot jacks?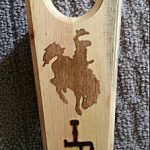 Your best option is to contact CowboyCustoms.com, as they're more than happy to answer all of your inquiries regar ding customizing a boot jack. With an extensive selection of wooden boot jacks available they can help you find the perfect custom wood 👢 jack that will make for a unique gift that will last for years!
How do you use a boot jack?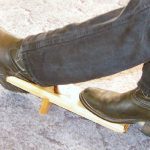 A boot jack is a tool used for taking boots off. It can be made out of vario🌿us materials, but the most popula r type is wood. To use one, place one foot on the back of the jack & slide the other boot into the groove at the front of the boot jack. Then pull the boot up, and it will pull the boot off, leaving it on the floor.
What is the easiest way to remove cowboy boots?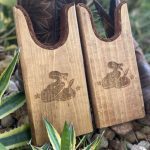 The easiest way to remove cowboy boots is to use a boot jack. By doing this, you can take your boots without having to bend over. Just place the heel of your boot in the front opening on the boot jack, put your other foot on the back of the boot jack & then pull up on the boot to remove it. Works like a dream.
What are the benefits of using a boot jack?
What is the difference between a boot jack and a shoe jack?
What is the purpose of a boot jack?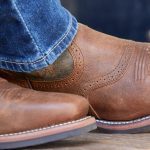 Boot jacks are often loca ted near the entrance of a home or inside a mudroom or bootroom. Their purpos is to help people take of their boots without having to bend down 🤔, which can be especially helpful for elderly individuals or those with back problems. Furthermore, boot jacks can also be used to scrape away ice and snow from boots before entering the house, keeping floors clean.
When was the boot jack invented?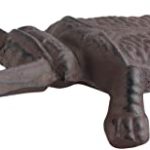 Boot jacks 🥾 were firsts invented in the 18th centur y (with a patent filed on Sept. 20, 1887) and used to help people remove their boots. The initial boot jack was made of wood with two prongs that fit underneath the raised heel of the boot; later metal versions featured rings or loops at one end that could be pulled apart for easy removal of the boot. Nowadays, you can find boot jacks made out of plastic, metal, and wood 🪵 varieties alike. 💥
What is a boot puller?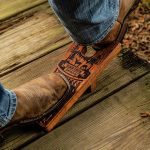 A boot puller is just another name for a boot jack. Both are made to eliminate the awkward situation of hopping around on one foot as you try to pry your boot off. The situation is made much worse if you're in someone else's house and there's an audience ...it's something that's best to avoid. Unless you enjoy entertaining people as they watch you struggle.